Classic bikes keep star racer young
By EVAN PEGDEN & PETER DRURY - Waikato Times
11/09/2010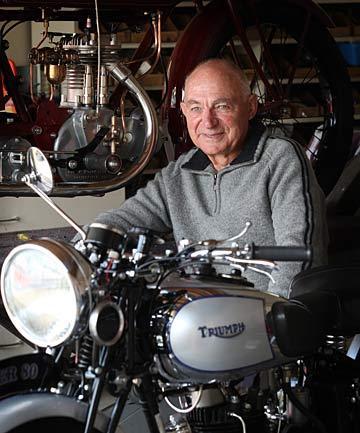 CLASSIC DAYS: Hugh Anderson with one of his restored bikes, a 1938 Triumph Tiger 80, before heading to Europe to don his leathers one more time.
Hamilton pensioner Hugh Anderson was a local hero in the Dutch city of Assen in the 1960s.
The 74-year-old member of the New Zealand Sports Hall of Fame, who won four world grand prix motorcycle road racing titles in the 1960s, yesterday headed back there to ride in next weekend's Centennial Classic TT Assen 2010.
He will be riding the Suzuki on which he took out the 1963 world 125cc title. The machine has been flown from Japan especially for the meeting. Based at the home of the Dutch TT during his European racing career, Anderson married an Assen nurse and was a popular figure riding his Suzuki factory team bikes.
Despite his age, he intends to give the historic factory bike a good "blast" around the Assen track next weekend. He only gave up "racing" historic bikes last year after having benign brain tumours removed and two years ago he set his fastest-ever lap time around the Pukekohe circuit. "I still get a thrill from riding," said Anderson. "My judgment, observation, and reactions – everything seems all right." He swims several mornings a week and generally stays active to keep himself fit.
Anderson, who was born at Ohinewai, has been returning to Assen on a regular basis since he retired from racing in 1966, and still gets letters from throughout Europe, where motorcycle road racing has always been a huge sport, asking for autographs and photographs. He will be joined in Assen by several other former world champions such as Italian Giacomo Agostini, who won 15 world titles, Americans Freddie Spencer and Steve Baker, Englishman Phil Read and fellow Kiwi Graeme Crosby.
Hundreds of other riders are also taking part and tens of thousands of spectators are expected to attend.
Anderson, who still owns seven road bikes himself but has sold all his historic racing machines, rode at Belgium's Spa-Francorchamps circuit in June on the four-cylinder Yamaha on which Read won the 1968 125cc world championship.
But it is Assen that is particularly special to him.
"It was the happiest time of my life back when I was racing and going to Assen is kind of like going home. And to have a Suzuki to ride there, it's almost all as it once was," he said.