Stroud superior in classic races
by Evan Peqden - Waikato Times
09/09/10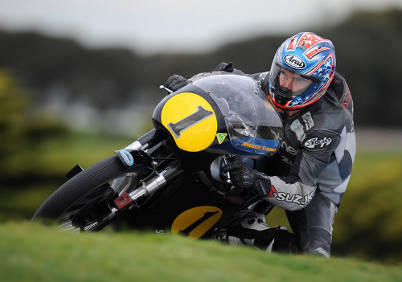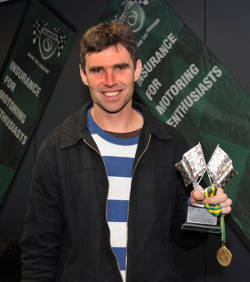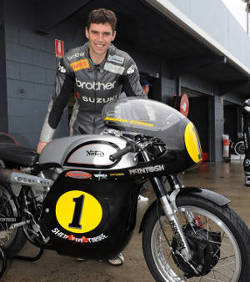 Veteran Gordonton Superbike star Andrew Stroud has taken a ride down memory lane in Australia and carried off three of that country's national classic motorcycle racing titles. Stroud, 42, was invited to race two of Aucklander Ken McIntosh's classic bikes from the sixties in the Australian Historic Championship at Phillip Island at the weekend and showed he was just as comfortable riding the racing machines of yesteryear as he is on his Suzuki Superbike that won him his eighth national title earlier this year.
He clinched the 350cc, 500cc and up to 700cc pre—1963 road racing titles, riding a 1961 350 Manx Norton and a 1962 500 Manx Norton, on Sunday before flying home last night.
"It was great. It's not something I've done before but I was invited to do it and thought I would give it a go" Stroud said.
He had a close duel with fellow Waikato rider Nick Cole (Hamilton) — the current New Zealand 600cc champion - in the 500cc class, winning two of the three races.
Cole won the other on another Norton, the latter race seeing just two one-hundredths of a second separating them.
Tyre choices had been tricky throughout the weekend due to showers interspersed with sunshine and Stroud's speed in the wet in the end won him a close duel with Australian Levi Day on a previously umdefeated Honda Twin in the 350cc class. Stroud overtook Day on the last lap of the first race, going all out to make up a large deficit when the rain started, dominated the second race where it rained throughout, and was beaten in the dry by the more powerful Honda in the third race. Both Stroud and Cole will race in this summer's national Superbike championship, starting in December, with Stroud again racing a Suzuki and Cole making his debut on a Kawasaki.