Stroud and McIntosh win three championships in one day
Australian Historic Motorcycle Championships, Phillip Island September 10th – 12th 2010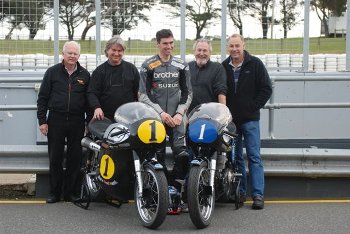 Don O'Connor, Ken McIntosh, Andrew Stroud, Kevin Grant, Dallas Rankine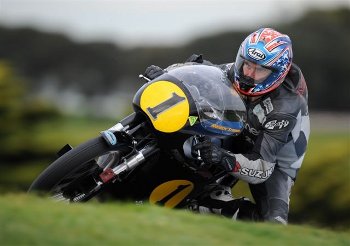 Andrew Stroud,350, 500 & 700 Australian Champion 2010, Phillip Island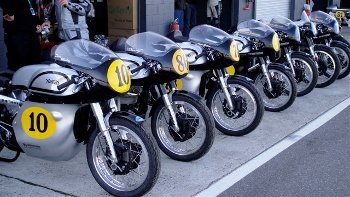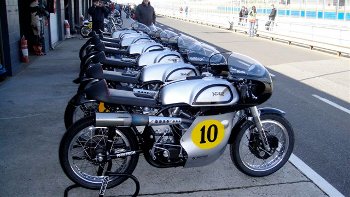 Phillip Island 2010. McIntosh Manx Nortons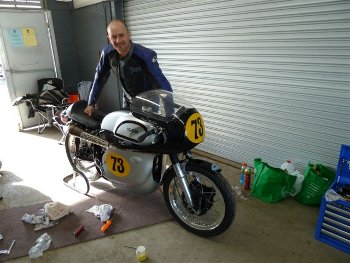 Paul Zahra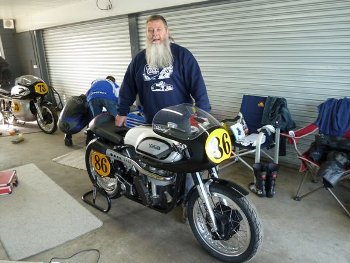 Mike Skee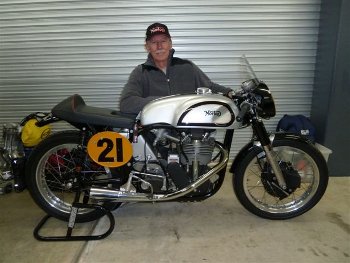 Ian Hopkins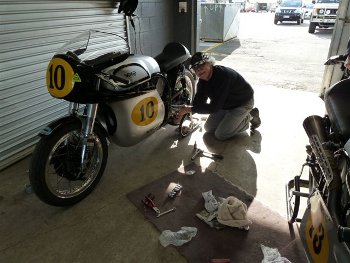 Dave Morley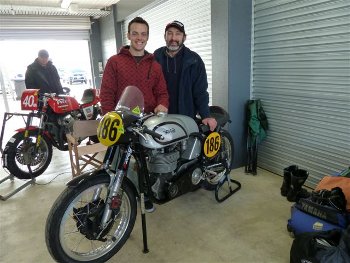 Cameron Donald and Paul Taylor, Phillip Island 2010
Current NZ Superbike Champion Andrew Stroud swapped his 180hp Suzuki GSX-R1000 for an Auckland built 500cc McIntosh Manx Norton with less than a third the horsepower, to win two Australian Historic Championships on September 4th and 5th, plus a third title on a sister 350cc model.
The Manx was built in Auckland by Ken McIntosh to largely original 1962 specifications, and was the same bike GP star Kevin Schwantz rode to a clean sweep of wins and the lap record at Pukekohe Classic Festival last year.
Stroud's three titles (350cc, 500cc, 700cc) completed a clean sweep by the Kiwis of the pre-1963 classes, after veteran GP star Ginger Molloy won the 250cc class on his Bultaco.
This is probably the first time in recent years anybody has won three Australian Championships in one day and was against strong opposition from Australian and NZ riders plus the rapidly changing weather.
Twenty seven bikes were freighted from NZ for the event with the assistance of Motorcycling Australia, Motorcycling NZ and Phillip Island Circuit.
The Championship format was for three races for each class with Stroud having a trouble free run in all nine races, but not before a broken gearbox in the Friday practice plus six tyre changes on race day. The weather varied from pouring rain to dry and sunny, but remained cold all weekend.
Forty-two year old Stroud showed a complete mastery of the tricky wet conditions with an unexpected win in the first 350cc race on a second McIntosh prepared Manx Norton owned by Kevin Grant, who also owns the Britten that Stroud has often demonstrated.
The 350cc class had been dominated for years by a CB77 based Honda twin, and this year it was ridden by Australian GP 125cc "wildcard" Levi Day.
In damp conditions Stroud came from behind to win the first 350cc race by less than half a second, and in the second 350cc race on Sunday morning turned on one of the performances of the weekend by beating Day by 17 seconds in the pouring rain.
Nobody had predicted this was even a possibility but the wet conditions suddenly made the 350 Manx competitive with Andrew on board and he said it was just the sort of racing he enjoyed and "he had to dig deep" to get the unexpected win.
The afternoon race was dry and as predicted the Honda walked away leaving Stroud a full 30 seconds behind in third place. But third was good enough to win the Australian title by one point.
The Open Class Championship included a class for up to 700cc bikes, and Stroud won all three races. The first race, in the wet, gave Stroud a lead of 12 second after only one lap, and he continued to pull away until he had a 41 second lead at the finish. The second race was won by 14 seconds but the last by only 1.08 seconds on a dry track. The second place bike used a 1200cc vee-twin JAP motor in a Norton frame. Stroud actually won the open class as well but was not eligible for the Open Championship as his motor at 500cc was too small!
In Classic Racing, the premier trophy has always been for the 500cc class and after Stroud's clean sweep of the three Saturday races, including the 500cc, the pressure was really on.
On Saturdays 500cc race Australian rider Glen Kelleher was only 0.79 seconds behind Stroud with Nick Cole only another hundredth behind him!
Despite serious Australian opposition, NZ riders and bikes had won the prestigious Australian Championship for the last 6 years with Dave Cole winning 4 times (Ross Graham McIntyre-Matchless G50), plus Sam Smith and the late Paul Dobbs (both on the Peter Lodge's Norton ES2 Special). Dave Cole holds the Phillip Island lap record.
This was the first Australian Championship bid by Ken McIntosh since the long ago days of Bathurst with Rodger Freeth and the legendary McIntosh Suzuki's.
Stroud's first Sunday race resulted in a loss to NZ 600cc Champion Nick Cole by two hundredths of a second and set the scene for a winner takes all final. Cole's Norton runs in the "Modified Class" in NZ and is allowed more freedom in specification when compared to McIntosh's "Factory Built Racing Class" Manx which is essentially to period specification, and thus the original weight.
Stroud's Manx has a full set of original Manx components including a standard spec Manx frame and forks, brakes, chain primary drive and period AMC clutch, plus an original Lucas 2MTT magneto, Amal GP carburettor, and Smith ATRC tachometer. The period type modifications are the old style Quaife 6 speed gearbox, and the UK built Summerfield 92mm bore motor.
The external appearance of the motor is completely standard except for the enclosed coil valve springs which kept the motor completely oil tight. Inside the motor the modifications are a plain bearing crankshaft (as used in 1961 by Mike Hailwood to win the IoM TT) and the bore and stroke changed from 86mm x 85.6mm to 92mm x 75mm, using a "Nikasil" coated cylinder. Norton themselves changed the bore and stroke of their own race engines many times between 1937 and 1959 and won the 1954 IoM TT with a 90mm bore.
The final 500cc race started in dry conditions and Ken McIntosh and Don O'Connor had changed to dry weather tyres minutes before the race was called to the dummy grid. Nick Cole got the jump at the start and lead for the first four laps by which time it has started to rain lightly. Cole had fitted a dark visor to his helmet and was having difficulty spotting the dry line. Stroud pounced immediately and with two laps to go lead the race to win by 0.135sec. This gave him 72 points to Coles 67, and another Australian Championship.
Another NZ rider, Terry Martin (Dave Kenah Manx) took third place over 12 seconds behind, which give him forth pace in the Championship, behind Australian Glen Kelleher
Other NZ Norton riders competing were Neville Bull and James McIntosh both riding 350cc McIntosh Manx Nortons. Dave Morley had his first ride on his brand new Schwantz replica 92 bore McIntosh Manx plus gearbox man Bruce Verdon was on his self built McIntosh framed 500 Manx.
Australia was represented by two times IoM TT winner Cameron Donald riding a completely standard specification 1962 standard bore McIntosh Manx complete with the original front number plate cowl, 19" wheels and low level exhaust. Despite riding what was essentially a standard Manx he qualified less than half a second slower than Stroud, but suffered some gearbox and magneto troubles keeping him out of the results.
Ian Hopkins from Cairns completed a 6000km round trip to compete on his 86 bore McIntosh Manx (a sister bike to Cameron Donald's) with a trouble free run, as did South Australian Mike Skeer (92 bore Schwantz replica McIntosh Manx) and Melbourne's Paul Zahra (86 bore McIntosh Manx) who had an earlier off track excursion, without injury.
Ian Lovell (Clatworthy ES2 Norton) Nick Cole (Lodge ES2 Norton) and Terry Martin (Kenah Manx Norton) all used McIntosh Manx frames.
Kiwi Dave Ogden brought his original McIntosh framed Yamaha TZ350F which he has owned from new out of retirement and Mick Neeson from Wagga Wagga raced his McIntosh Suzuki Bathurst Replica which was one of the original 40 built in the early 1980's in the Period 5 Open Class.