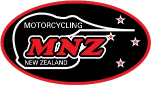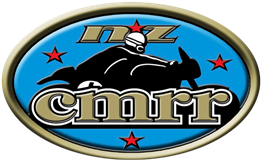 NZ CLASSIC MOTORCYCLE RACING REGISTER INC
PRESENT THE
Puke September Track Day
Pukekohe Park Raceway
Friday September 30 2022
Programme of events
This trackday is being run by Pukekohe Raceway, but entries are being collected by NZCMRR. Any NZCMRR member (or affiliated member) can take part providing they have MNZ standard riding gear and their bike passes bike check. You do not have to be competing or use the bike you will be racing. Modern sidecars can take part too (to enter just join us on-line as an affiliated club member - no charge). Gates will be open at 7.30am, sign-on at the Moto TT pit office from 8am and riders briefing will be at 9.15 before taking to the track.
There will be 3 bike groups and 1 sidecar group. The bike/s that you select will determine the group/s you are in. Track sessions will be of 15 minute duration, repeating throughout the day, apart from a lunch-break. Each group should get at least 5 sessions.
DISCLAIMER OF LIABILITY -
Puke September Track Day

(

Friday September 30 2022

)
Entry fees
Entry fee - 1 speed group
_____ x
$195.00
________
Pit Garages No Power - For Friday Only
Pit lane garage Friday Only - half share
_____ x
$60.00
________
This is for anyone only entering for the Friday track-day. If you are racing book your Friday garage with your race entry. Shared garage space WITHOUT power.
Other Pit Spaces
_____ x
FREE
________
Other pit spaces will be marked on Friday morning. Please move to your designated space when possible.
Pit Garage Fri (with weekend entry)
_____ x
$50.00
________
Only for those who want to access their weekend pit garage on Friday. NO POWER on Friday. Those with weekend powered pit garages booked with their race entry will be closer to pit lane
Transponders
Transponders are not available for hire in this entry form
_____ x
FREE
________
Postal or Email Entries
Complete the entry form and then either:
Scan and email to
race@nzcmrr.com
or phone Cheryl on 078493568.
ENTRY FORM
Puke September Track Day
-
Friday September 30 2022
ENTRIES CLOSE
Sunday September 18 2022