Upcoming Events
Summer Classic at Hampton Downs

Sunday March 25 2018

Autumn Classic at Taupo

Saturday 14 - Sunday 15 April 2018

Winter Classic at Taupo

Saturday 15 - Sunday 16 September 2018

Spring Classic at Manfeild

Saturday 27 - Sunday 28 October 2018
NZCMRR Events Newsletter
To join our mailing list and receive notifications about upcoming race meetings and information about the register please enter your name and email address below.
The Biketranz North Vs South Challenge Cup
North: 28th-29th October, Manfeild, Fielding.
South: 1-3 December, Levels, Timaru.
The Biketranz North Vs South Challenge Cup donated by 4 time world champion Hugh Anderson will be raced for over two events.
The first event is the NZCMRR Spring Trophy Classic at Manfield, 28th-29th October, followed by the Mike Pero Southern Classic 1st-3rd December at Levels, Timaru.
The North Island team is made up of NZCMRR members who will match race a South Island team of 16 CAMS riders. For more information about the click here to download.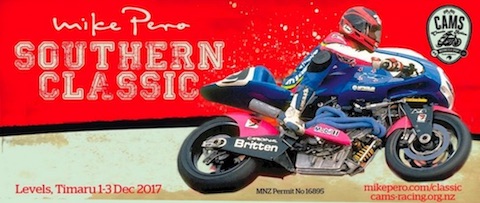 Renew you NZCMRR membership
2017-18 memberships can be renewed online. If you can't remember your password or username remember to use the 'Forgot password' button. Click here to renew.
MNZ rule changes - Effective August 1st 2016
NZCMRR competitors should be aware of the upcoming changes to the MNZ Manual of Motorcycle Sport (Road) effective 1st of August 2016. Several of the changes directly affect NZCMRR competitors in the areas such as safety gear, helmet and bike mounted cameras and overseas competitors. read more...
Classic 70's race class
Changes which encompass Pre-76 and Pre-72 machines joining in their relative race classes i.e. 250, 350, 500 and Open. The new classes will be referred to as Classic 70's on a trial basis for the next 12 months. read more...
Pre '89 race class changes
The Pre '89 Senior and Junior classes have been expanded for the 2016 season. There are now Pre '89 classes F1, F2 and F3. The existing Senior will run as the new F1 class while Juniors will be split across F2 and F3. read more...
Technical Inspections
Riders are advised that Technical Inspections will take place during the Festival and at other race meetings. These Technical Inspections will examine machines to ensure that they comply with the rules of the class that they are entered to race in. The baseline for the Inspection will be the completed "Bike Specification" that is held on the Register's database and the Technical Rules of the Class. read more...
Message from the Machine Examiners
The Machine Examination is a safety inspection only, it is not a Tech Inspection. The Examiners are generally looking for items that are dangerous, sharp, loose, unsecured, fragile or leaking. They are also looking at items such as lockwiring of handle bar grips, or that the throttle returns to the idle stop. read more...
Dogs
No dogs are allowed at any NZCMRR race meeting. The risk of a dog getting out of control and in way of a race machine is not acceptable.
Anyone turning up with a dog will not be permitted access to the meeting.
There will be no exceptions to this rule.
Race withdrawals and entry fee refunds
Entrants can get a refund of their entry fees provided they inform the race secretary (email is fine for this – race

nzcmrr.com) anytime up to the day before the race that they are not going to compete. When asking for a refund, please provide the date of the credit card transaction, and the name on the card. We can find the card number to credit the refund to from that information, usually. Of course, notice would be preferred as early as possible, as a courtesy to help with grids and programmes. But we are aware that some people work until the last minute to prepare but strike some problem that cannot be sorted out in time, so we will always have some late notifications.