Upcoming Events
NZCMRR Club Day

Sunday November 18 2018

Come join in NZCMRR's first ever Club Day at the Hampton Downs Club Circuit.

The NZCMRR Club Day entry fee is substantially discounted for NZCMRR members.

The day will include two rounds of practice and four rounds of racing but race results are not part of the Championship Points rounds.

This will be the first NZCMRR event using MyLaps Timing Transponders.

40th Annual NZCMRR Classic Racing Festival

Saturday 2 - Sunday 3 February 2019

The 40th NZCMRR Classic Festival at Pukekohe Park Raceway.

Summer Classic at Hampton Downs

Sunday March 17 2019

Spring Classic at Manfeild

Saturday 26 - Sunday 27 October 2019

Friday "Test Day" is also being run by Manfeild Raceway, you can enter for pre-register for a discounted fee as part of your entry.

Racing includes sealed handicap races for the Premier NZCMRR Cup and the NZCMRR Cup will be awarded to the race winner.

South Island entrants should contact Cheryl race@nzcmrr.com. BikeTranz will be assisting with inter-island transportation as part of the North (NZCMRR) vs South (CAMS) Challenge Team Trophy.
NZCMRR Events Newsletter
To join our mailing list and receive notifications about upcoming race meetings and information about the register please enter your name and email address below.
NZCMRR Club Day
18th November 2018
Sign up for our first Club Day at Hampton Downs.

Transponders
All NZCMRR events from November 2018 will have transponder timing. If you do not already have your transponder please read our Transponder Instructions.

Buy tickets to the NZCMRR 40th Classic Festival
Tickets for the NZCMRR 40th Classic Festival can now be purchased online. A perfect Christmas present for those motorsport enthusiasts in the family! Buy now.

North - South Challenge - CAMS Southern Classic at Levels
Part two of the NZCMRR vs CAMS North - South Challenge will be held at the CAMS Southern Classic meeting at Levels on November 30th – December 2nd. If you are taking part in the second challenge round and need transport assistance NZCMRR members will still receive subsidised return transport from our super supporter BikeTranz. To enter visit www.cams-racing.org.nz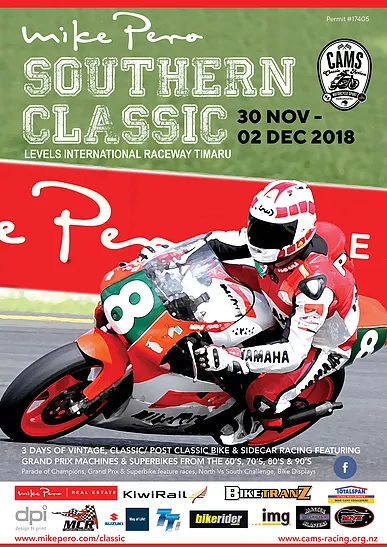 NZCMRR 40th Classic Festival 2019
Work is well underway for the 40th Classic Festival 2019. The theme will be a celebration of our NZ racing history and of the people and bikes involved within the Register over the 40 years of racing. This is not just the 40th Festival! Whether you are an owner, a bike builder, a rider, a mechanic, a volunteer, a promoter, a business sponsor, a writer, a photographer, or just a camper on the hill! ... please get involved and make sure this coming Festival is something special. We are especially keen to see ALL the bikes that have ever raced at Puke! If you have one in the shed that doesn't go or one in pristine condition that does not go out in the rain, please bring it along for display! Get in touch with us if you can help!
Renew you NZCMRR membership
2018-19 memberships can be renewed online. If you can't remember your password or username remember to use the 'Forgot password' button. Click here to renew.
Drug and Alcohol Testing
MNZ's focus remains to keep our sport safe, so they have engaged an external service provider to undertake random drug and alcohol testing which will come into effect from 1 October 2018. This testing can be carried out at any MNZ-permitted event and Clubs and Officials will not be provided with any prior warning of this occurring.
Championship points
To be eligible for a 1st-3rd place Championship Certificate competitors must compete at a minimum of three NZCMRR events in their respective class.
Classic 70's race class rules updates
Changes have been made to clarify our Classic '70s race class, please see the latest technical rules, last updated on the March 2018.
NZCMRR YouTube Channel
Visit the NZCMRR YouTube Channel to see video interviews from the 2017 Classic Festival with Jock Woodley, Cam Donald, Dennis Charlett, Ken McIntosh, Eddie Kattenberg, Dave Cole, Hugh Anderson, Paul Treacy, Stu Avant and Kevin Magee.

Machine Examination
Riders are advised that Machine Examinations will take place during race meetings. These Machine Examinations will examine machines to ensure that they comply with the rules of the class that they are entered to race in. The baseline for the inspection will be the completed based on the "Bike Specification" that is held on the NZCMRR's online database and the Technical Rules of the Class. The Examiners are also looking for items that are dangerous, sharp, loose, unsecured, fragile or leaking; also items such as lockwiring of handle bar grips, or that the throttle returns to the idle stop. read more...